The restoration and reconstruction of vintage wooden boats has been and still is our back bone since we opened our doors.
We have a tremendous appreciation for the preservation of Antique and Classic wooden boats along with the history and stories behind each one. These treasures of maritime history were built in a time when the craftsmanship and functionally of a boat came first.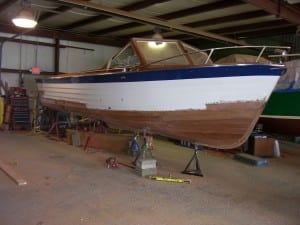 At Custom Marine, Inc. we practice the same and often a higher level of craftsmanship found in the construction of these wonderful old boats and complement it with the far more advanced construction methods and materials available today. The result is absolutely stunning show quality restoration work that requires less maintenance than when these boats were originally produced.
Sometimes boats are brought to us in less than restorable condition. That does not necessarily mean that it is the end of the life for a boat. When such a boat is in extremely poor condition, we approach it as a reconstruction rather than a restoration.
When reconstructing one of these special boats, most of the original wooden components are reproduced. Any part that can be saved gets cleaned, preserved and reused, and all of the hardware restored. As a reconstructed boat comes together we always go the extra mile by seal coating and finishing each piece separately where ever possible prior to installation assuring good protection from the elements and a far more stabile finish coat.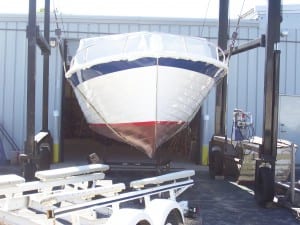 After going through reconstruction you can expect a fully functional head turner of a boat that exceeds the overall fit and finish of the original boat when it was new. To keep these fine boats looking their best we offer a maintenance program which includes freshening up the paint and bright work as needed , winterization, maintaining all systems , trailer upkeep, and regular detailing inside and out including the all important task of keeping a clean bilge This service is designed to maximize your time using or showing your boat instead of worrying about its upkeep.
If you are contemplating on where to restore your antique or classic wooden boat, you can feel confident that it is in the best of hands while at Custom Marine, Inc. The boat would be all around solid, reliable , and undoubtedly in better than new condition with a fit and finish you would expect to find only on fine furniture. After all, a wooden classic really is a piece of floating furniture. Feel free to contact us about your restoration and let us breath new life into the boat of your dreams.
Interested in seeing some of our work?
Custom Marine Inc. can restore your classic or antique boat, refit interiors on modern yacht, or reconstruct fiberglass.