For over 20 years we have been building a great reputation by committing ourselves to delivering the highest quality work to every customer.
As a USCG licensed 100 ton Captain and avid life time boater himself , Custom Marine Inc's owner, Jeremy Goldstein is well versed on the importance of a safe and well maintained vessel as well as the pride of ownership that comes with owning a boat that is not only ship shape but stunningly beautiful as well.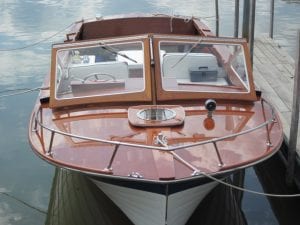 Our staff is extremely talented and most defiantly capable of transforming your boat to fit your needs. Whether you are seeking a fresh new look in the cabin, restoration of a vintage wooden boat, Fiberglass work of any kind, some refinishing ,or just some routine maintenance Custom Marine inc. is always a smart choice . Not only can you expect first rate work on your boat from us , but it will also be very clean when upon completion of our work on your boat because we believe that every boat should be returned to a customer cleaner than we found it
Custom Marine Inc. is not your typical run of the mill boat repair shop. In this day in age when true craftsman are few and far between, Custom Marine inc. is an exception. Our work is performed with a very unique and rare sense of pride and passion. We often take on the tasks that many yards just don't have available to offer their customers. Our services include Fiberglass reconstruction, antique and classic wooden boat restorations, Custom built wooden boats, Yacht Interior renovations, hull refinishing, and custom carpentry.
Interested in seeing some of our work?
Custom Marine Inc. can restore your classic or antique boat, refit interiors on modern yacht, or reconstruct fiberglass.